Artificial Intelligence has constantly proved itself to be that one leading tool which has revolutionized the whole banking and finance industry. The perfect blend of such modern technologies has accorded the fintech companies around the globe with surplus opportunities to comply with every demand of their customers without compromising with their security and convenience.
However, in the era of digital marketing & online fraudulence, the need to connect with the customers in a more personalized manner and to parallelly maintain utmost security is much more than ever.
In such scenarios, AI enabled face analysis and emotion recognition has emerged as the most efficient and seamless solution. Facial & emotion recognition have continuously been the most prominent AI prospects due to their significant cognitive and emotional ability to understand humans and respond accordingly.
Finix, coupled with facial and micro-expression recognition, implements an adaptive and future-ready mechanism which helps in identifying and decoding customer emotions, prevents accidents & thus emanates mutual trustworthiness in fintech services, further helping to create a much more personalised, secure and contextualised experience for both the fintech companies and their users.
Key features of CogniCue's Fintech Analytics: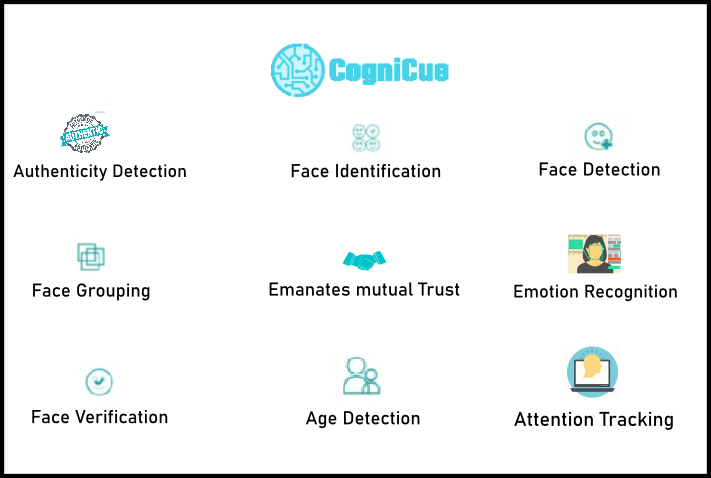 How AI is strengthening Fintech corporations against fraud?
As the fintech industry is continuously evolving and handing out better and more secure features to the customers, the fraudsters are also constantly devising and coming up with newer ways to bypass fraud detection systems. This is forcing the fintech companies to keep strengthening their algorithms. Finix deploys Reinforcement learning which helps the algorithm to constantly take valuable feedback, thus resulting in active and positive reiterations, keeping accuracy & security as the top-most priority. Through this, the algorithm also pin-points false-positive outcomes & accordingly forbids adverse actions on such activities. This continuously learning tool combines the human experience and true potential of AI to make the fraud detection system up-to-date and extremely robust.